The Word of God is Our Foundation
About Stewardship & Finance
Today, more than ever, we are faced with challenges that sometimes seem beyond our control, and beyond our ability to resolve. Financial markets are volatile. We're inundated with advice but don't know which information to trust. And there is so much complexity in laws and regulations that it's difficult to know what we're supposed to do.
But we have good news that will help you not only face, but conquer your financial challenges.
God has blessed each one of us with the opportunity to share in the bounty of His creation. We are blessed with riches of every kind – from the love of our family to the glory of nature, and the monetary rewards we receive for our honest daily labors. It is God's intention that we enjoy the gifts He bestows upon us. But He cautions us that we should use our resources and possessions wisely.
Good will come to him who is generous and lends freely and to him who conducts his affairs with justice.
Psalm 112:5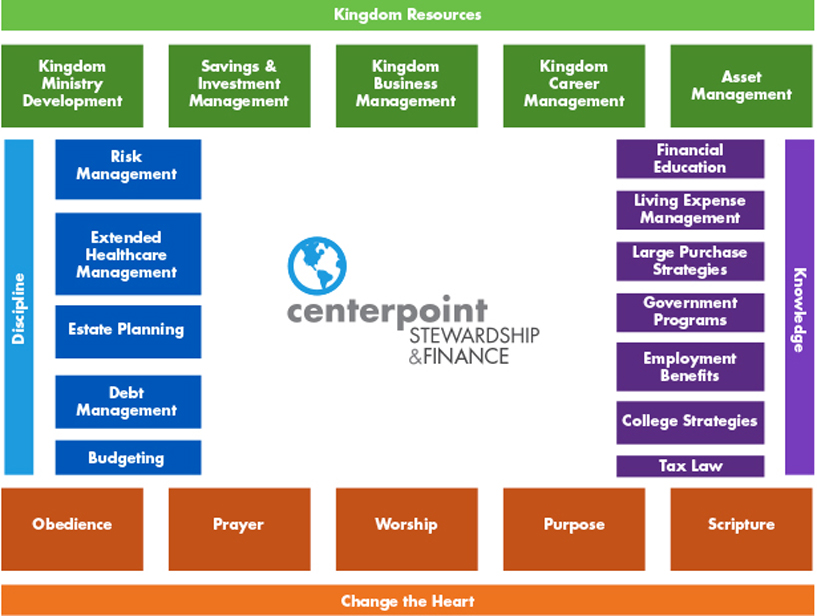 Throughout the Bible we are provided with wise instruction on how to live our lives so we receive the gifts we earn — and to use them wisely now and in the future. Centerpoint has taken those words of wisdom and created many helpful resources that will guide you in virtually every aspect of your Financial Planning and Stewardship:
Extended Healthcare Management
Estate Planning
Debt Management
Budgeting
Financial Education
Employment Benefits
Living Expense Management
Large Purchase Strategies
Government Programs
College Strategies
Tax Law
Risk Management
Bob is an accomplished author, speaker, entrepreneur. His professional experiences span over 40 years of consulting and coaching businesses, ministries, and individuals.
Bob has participated on the boards of several public companies as well as consulting several start-ups. His book, I Never Thought of That, has become a manual for entrepreneurs. In addition, Bob has conducted seminars on various topics, such as Economic Briefing, College Prep, Legacy, and Saving Without Sacrifice for organizations and companies, such as:
AT&T

The Ohio State University

Franklin University

College for Financial Planning

Liquibox

Nationwide Children's Hospital

Ohio Department of Commerce

Battelle

Columbus Public Schools

Riverside Hospital
Bob has also been featured in…
Columbus Monthly

The Columbus Dispatch

The Daily Reporter

Business First

Ohio Business
Bob was one of the first in Ohio to receive the Certified Financial Planner® designation and was the Founding President of the Institute of Certified Financial Planners, Central Ohio Society.
Mr. Milliken has been engaged in the financial planning business for over 15 years. He holds multiple financial industry licenses, including Series 6, 26, 28, and 63 as well as Life, Health, and Annuities. Mr. Milliken earned a Bachelor of Science Degree in Business Management from Ohio Northern University and is currently pursuing his Certified Financial Planner® (CFP®) designation through The American College.
Mr. Milliken has a wonderful family with his wife of 17 years, Kelly, and their three children. Mr. Milliken enjoys almost all outside sporting activities, playing with his kids and cheering on the OSU Buckeyes and Pittsburgh Steelers.