The Word of God is Our Foundation
About Legacy & Retirement
Based on surveys, we know that the three greatest concerns of the elderly are:
• Do I have adequate resources to sustain my retirement?
• Will healthcare expenses wipe me out?
• Will I leave a legacy for my children?
Divine Strategies for Living provides a wealth of information and instruction for planning a comfortable retirement and establishing a lasting legacy. We offer helpful, practical, Scripture-based tools for families that are saving for the future, thinking about retirement or caring for elderly parents.
Among the topics we cover are:
• Extended Healthcare Management
• Estate Planning
• Social Security
• Medicare
• Medicaid
• Veteran's Benefits
• Reverse Mortgages
• Tax Planning
We help you every step of the way from initial planning of retirement to ensuring that you leave behind a lasting legacy in accordance with God's eternal plan.
A good person leaves an inheritance for their children's children, but a sinner's wealth is stored up for the righteous.
Proverbs 13:22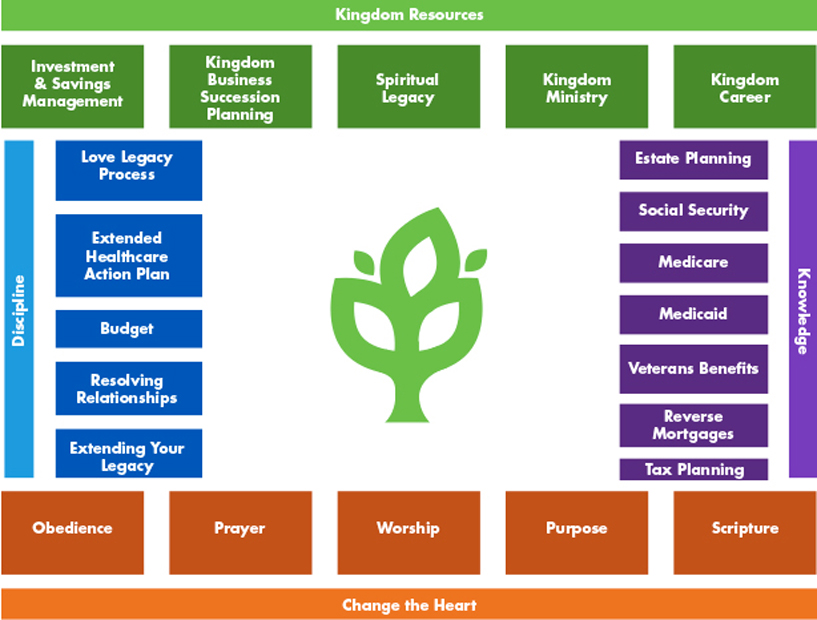 Retirement is not the end of a career, but the beginning of life's legacy.
There is nothing in the Bible directing us to retire from our work. Ancient priests stepped down from the more physical requirements of making sacrifices, but they continued to engage in other activities within the temple. The Lord knows that people need a reason for living, a daily purpose that compels them to make the most of their lives, so He didn't instruct us to lay down our tools and spend the rest of our lives in idle leisure.
This doesn't mean we need to continue to perform physical or mental work. Many find great reward and ample reason for living simply by offering an encouraging word, praying for God's blessing, or by providing help to someone who's in need.
What better way to spend one's days than by serving God by serving others? When we've stopped going to an office or worksite each day, we may begin an entirely different and extraordinarily fulfilling new career in selfless service.
What is your legacy?
Our legacy is manifested in many ways, not merely in the physical assets we leave behind. Our relationships with others, our experiences, family, memories and our financial resources each contribute to a full and rich legacy that marks our time on earth. Thus, we should carefully consider the long term impact of the character we exhibit to the world, and the relationship we have with our Lord and Savior.
To be faithful to God, all knowledge for leaving a legacy must be taken through the filter of Scripture. It is a foundational piece required to carry out estate planning and to support yourself during your final years.
With obedience to the Lord and His wisdom, each one of us can leave this world with the lasting legacy of a life well lived.
We help you plan for care for the elderly.
Elderly parents are often not motivated to prepare information regarding medication, physicians, transference of wealth, and other issues related to changes in life events. Without a definitive plan in place, the family is burdened with making decisions that may or may not be the wishes of their aging parents.
We have tools for helping the family navigate through their care in their final years. Some of those steps include putting together an extended care action plan to assist family members in determining the wishes of aging family members in the area of health, use of financial resources, family relationships, personal relationships, pets, hobbies, recording family history, life events, and the disposal or giving away of papers and personal items.
We'll assist you in making the most of your government benefits.
Social Security, Veterans Benefits, Medicare, Medicaid, estate planning and reverse mortgages have complex rules and laws that impact the outcome of benefits received. Unless you know the rules, you could end up receiving less than you're entitled to! We offer valuable assistance to those applying for and receiving benefits, providing personalized counsel to ensure maximum compensation to each individual.
A final word…
Our passing is like the destruction of a library. All our thoughts, memories, and stories that have not been recorded die along with us.
Concerns for the last years of anyone's life involve decisions for care, housing, management of resources and sometimes painful decisions about those who will be left behind, including family members, friends and pets.
Our Divine Strategies for Legacy and Retirement make this crucial part of planning less difficult, and help ease the burden of those who are grieving the loss of a loved one.
As an independent agent with Seniority Benefit Group, Don delivers clear, simplified information, about Medicare, thereby helping Medicare-eligible individuals understand their options for health coverage. He represents the major health insurance carriers and assists beneficiaries select and enroll in Medicare coverage, which may include the following: Medicare Advantage plans, Medicare supplement policies and prescription drug plans.
Don earned is BA, MBA and Ph.D. in Marketing, Marketing Research, Economics and Communications at Michigan State University, East Lansing, Michigan. Prior to relocating to Columbus he taught at Michigan State University and University of Wisconsin-Eau Claire.
He can be reached via phone at (614) 799-1403
With over 27 years of experience as a financial counselor and wealth coach, Beth is committed to providing you with the necessary tools to achieve financial peace. Among her credentials, Beth is a Dave Ramsey Certified Financial Counselor and serves as the Financial Peace University Coordinator at her church.
In addition to her participation in numerous seminars and workshops, Beth has also completed many hours of continuing education to further her knowledge in the field.
As a wife, mother, and small business owner, Beth draws on her own life experiences as she works with you to create your personal financial plan. Her practical tips, professional advice, and personal approach will inspire and motivate you as you take the steps toward true financial peace!
Call 419.358.4146 for help!