The Word of God is Our Foundation
About Family
Family has an important role in God's plan. Because it is the foundational structure for any civilization, it is imperative that we strive to support and strengthen our family life…or risk the eventual total collapse of our society.
And even though we may do our utmost to have a healthy family life, there is little doubt we will encounter many struggles along the way. Some of these struggles will be tied to sin: addictions, alcoholism, anger, co-dependency, depression, domestic violence, dysfunctional family systems, eating disorders, grief, sleep disorders, stress, suicide…the list goes on and on.
Additional challenges will occur with age: infirmity, Alzheimer 's Disease, dementia, dependent parents, and the difficulties of administering assistance to the elderly.
Often, we don't adequately address these stresses on our family life until they manifest themselves in job loss, health issues, financial difficulties or marital discord.
At Centerpoint Life Planning, we understand the struggles that families face during their various phases of evolution – from first love and marriage to the birth of children, the raising of strong families, and the maturing of the union before the golden years of reaping rewards for lives well lived.
We offer Bible-based guidance for discipline and resources for knowledge in virtually every aspect of family life:
Prevention/Coping Disciplines
Balanced Living
Marriage Disciplines
Parenting Disciplines
Interpersonal Skills
Issues Requiring Change
Marriage Enrichment
Parenting Techniques
We invite you to utilize this great wealth of information so you can be the steward of a strong and happy family living fulfilled, Christ-centered lives.
"Husbands, love your wives, just as Christ loved the church and gave himself up for her to make her holy, cleansing her by the washing with water through the word, and to present her to himself as a radiant church, without stain or wrinkle or any other blemish, but holy and blameless. In this same way, husbands ought to love their wives as their own bodies. He who loves his wife loves himself."
Ephesians 5:25-28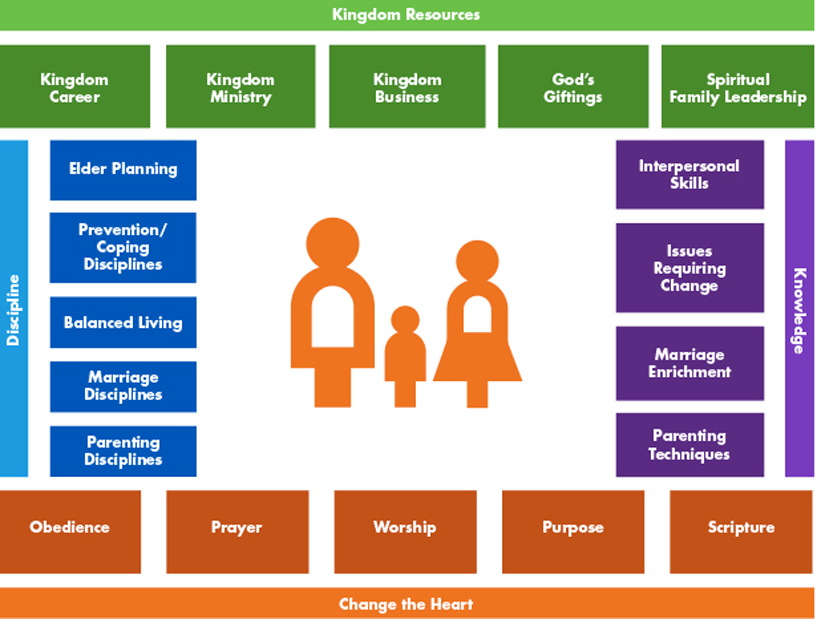 God intended man and woman to unite in marriage.
Marriage is the heart of the family, representing the foundational authority of the unit. It's an intimate relationship that tests our independence, our personality, our differences and our pride. It can be a great experience, yet it forces us to identify our limitations and humbles us to submit to God.
Within the marriage, we have the role of parenting which is the foundational core to teaching children how to live: to respect others, be obedient to God, and embrace Christian values.
God perfectly designed the family as our first introduction to socialization. This socialization is the foundation to new experiences with others. Unfortunately, we now live in a world where children are growing up in front of various forms of multimedia with no opportunity to converse with the family or friends. Many young people today, even when sitting together, will choose to interact with their electronic devices rather than through face-to-face dialogue. We seem to have forgotten how to be together, and how the family meal is intended to be a time for acknowledging God's provision and for conversing with members of our family.
It is a parent's duty to teach obedience to the Lord.
The Bible has taught us that parenting has disciplines and knowledge that we must adhere to. For children to have success in life, they must be taught to be obedient and to listen to the direction God wants them to go. They must learn the importance of submitting to the authority of those who are over them in employment or government by learning to submit to the authority of their own parents. Studies have shown that children from two parent families consisting of a mother and father are better educated, better citizens, more financially successful, and more responsible.
Many marriages fail because one or both parties fall into sin. At that point, we may be advised to strengthen the relationship by learning disciplines our parents may have modeled. We can also turn to Scripture, classes or books – or even a mentor or counselor — to lead us through the anxiety and despair of an unhappy partnership toward the joy and fulfillment of a relationship built on love, trust and respect.
A strong union with children who are respectful of parents can lead to a great legacy that will last for many generations. This is why God has given us within the Bible instructions on marriage and the best ways to raise our children, though many have been abandoned by our culture.
Love God and your family will be blessed.
Divine Strategies for Living can help you and your family grow closer to God by living the way He intended. Our vast resources provide guidance on how to make God a central figure in your marriage and in your children's lives and how to learn from Scripture the way you can effectively deal with the challenges family life brings.
We know that the family is the most important protection and assurance of order in society. Let us show you the way to strengthen the bonds of love and obedience within your own family and to prepare your children to find hope, happiness and fulfillment as they create families of their own.
Graduating Cum Laude from Defiance College with a B.A. Degree in Religious Education, Millie went on to receive her M.A Degree in Guidance and Counseling from The Ohio State University in 1981 and became a Licensed Professional Clinical Counselor in 1985. She served as President and Executive Director for 20 years at Lighthouse Counseling Services, retiring to write and teach in 2002.
Steven holds twenty-one years of providing individual, marital, family and group counseling. He has served a total of five years as a 'Director of Counseling.' He specializes in marriage therapy, trauma and abuse issues and 'stress debriefing.' Additionally, Steven's professionalism is attested to by his holding independent licensure as a 'Supervising Clinical Counselor' (PCC-S). He also has seven years clinical supervision of masters level interns and licensed counselors. Steven has five years experience serving on a non-profit Board of Directors and Advisory Board.
Specialties:
Marriage and Family Counseling

Pastoral / Spiritual Counseling

Abuse issues: sexual, domestic violence

Supervision of interns

Assessment of Male Offenders (Domestic Violence Sexual Offense)
Contact him at 614-337-1986, or at lcscounselors@gmail.com.